Trending
8 Best Free VPN Servers Fast and Secure
FreeFire Servers For Free
With the increase in hacker attacks and digital censorship around the world, privacy and confidentiality have nowadays become a major demand for everyone. In this VPN review, we go through the 8 best free VPN servers for computers and phones for all devices for this year. Whether you want to access websites that are blocked in your area or hide your browsing tracks or search history, a VPN – Virtual Private Network – is the most common solution that most users rely on.
Most VPN services are rather not free and require payment, but there are a number of VPN services that are completely free or offer a basic VPN service for free with the option to pay if you want to take advantage of better or full features such as higher speeds and other additional security benefits. So if you are looking for the best free VPN for PC or phone, here is the 8 best free VPN that you can use right now.

What Is Virtual Private Network (VPN):
The Internet is a collection of large servers responsible for storing websites and presenting them to anyone who wants to view them. These servers communicate with each other all the time including sharing your data with each other to eventually let you browse a page. By data we mean your IP address, geographic location, and the version of the operating system you are running on. If you do not want to share this data, you must use a VPN server.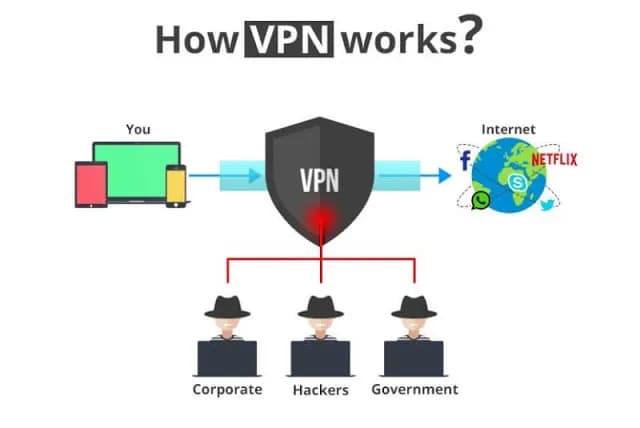 How does a VPN works?
A VPN starts encrypting your data even before you reach your ISP or the Wi-Fi service provider in your router. The data then goes from the VPN server to its destination via the Internet such as your bank website or search engine website.
These sites estimate that the VPN server is the one who requested the searched information, but in fact, you are the owner of this data. in other words, VPN servers are simply an intermediary between you and the sites you intend to visit and that way your privacy and confidentiality on the net are protected.
What Is The Best Free VPN Servers for Windows, Android, and iOS?
Discover the Best Free VPN Servers for Windows, Android, and iOS – Your Ultimate Guide! Safeguard your online privacy, enhance browsing. Top-rated VPN servers, exceptional performance, robust security. Unlimited bandwidth. Windows, Android, iOS options.
Say goodbye to limitations, explore without restrictions. Protect data, access geo-restricted content effortlessly. Unlock endless possibilities! Join us as we unveil the best free VPN servers for Windows, Android, and iOS. Enhance privacy, maximize security, enjoy seamless browsing. Unlock online freedom!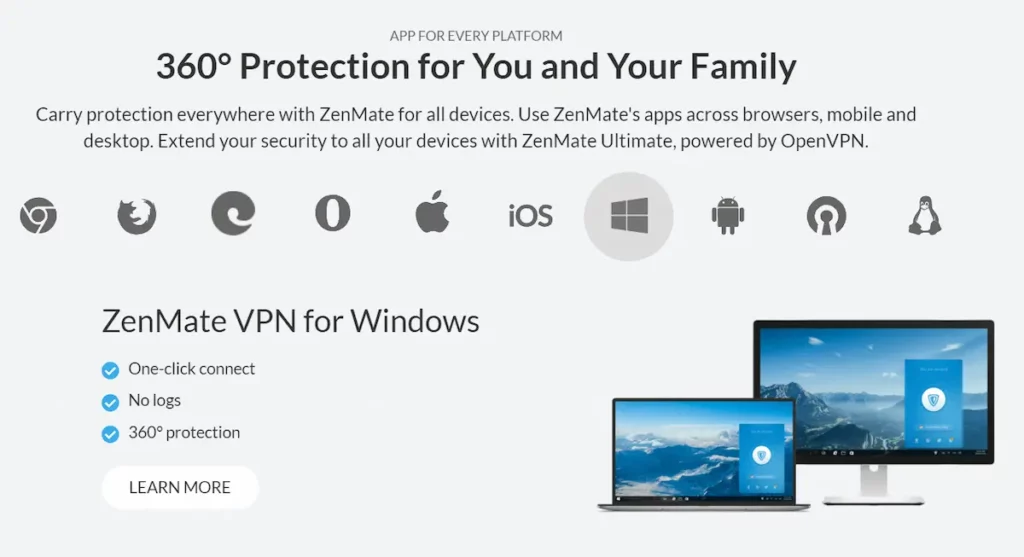 Berlin-based ZenMate started as an add-on for browsers and then expanded into mobile apps and computers. ZenMate's free period only lasts for one week. ZenMate has an easy-to-use interface that is quick to learn, owns 314 servers in 27 different countries, and enjoys high connection speed and data confidentiality.
You can use ZenMate if you are looking for a one-time use of VPN, if you want to use ZenMate permanently you will need to sign up for a paid account.
#2. ProtonVPN
ProtonVPN is provided by the same company that offers the popular Proton Mail. Although there are a bunch of paid subscriptions offered by ProtonVPN you can browse with the free version without any restrictions on the amount of data. But the free version will be limited to one device per subscription at the same time and will be able to connect using only three of the total 30 servers ProtonVPN provides to its paid users.
These three accessible servers are located in Japan, the Netherlands, and the United States, and the computer application has a simple and easy interface that can be used without any prior knowledge of VPN work.
ProtonVPN comes with some great extra features that make it one of the best free VPN software as the company uses strong 256-bit AES encryption to ensure a secure connection In addition, the company is located in Switzerland and is protected by some of the strongest privacy laws in the world so it cannot be forced to spy on your habits your browsing.
The program also has a DNS Leak Prevention feature that ensures that your internet browsing is protected at the DNS level as the company does not use any DNS servers that are not owned by the company itself.
ProtonVPN also supports one of the most requested features of a VPN service which is a Kill Switch which basically means that with Proton VPN if you accidentally lose connection to your VPN server the service will immediately block and stop all your network connections to prevent Your real IP is accidentally leaked.
In the event that you decide to subscribe to the paid service in the future with ProtonVPN, you can take advantage of the Secure Core feature that routes your network traffic through multiple servers within the ProtonVPN network to ensure that even if an attacker or hacker manages to monitor your traffic on one of the servers, they will not be able to find your real IP address
In addition, ProtonVPN supports the popular Tor browser to add more privacy and security.
Positives:
Unlimited data
easy to use
Anyone can register and subscribe
256 bit encryption
Wi-Fi protection
Money back guarantee
No activity logs
Multi-platform support
Strong encryption
Strong protocols
Forward secrecy
Professional support
Kill Switch Feature
Tor support
Prevent DNS Server Information Leak
Strong national laws protect the company from forcing it to eavesdrop on its users
Negatives:
One device per free account
Secure Core service is limited to paid subscriptions
Betternet made our list of the best free VPN servers due to its simplicity of design and ease of use. You don't even need to register with your email to start using Betternet.
The interface of Betternet includes an on/off button and a place to choose from among the available servers.
Free accounts will only get nine different server locations all within the US and you cannot choose from the available server options.
The app was developed by AnchorFree which is the same developer as HotspotShield, and two different apps are developed to meet the needs of users with different technical skills as Betternet is aimed at users who want to use a VPN service without paying much attention to technical details.
Positives:
Basic encryption features
simplified interface
You do not need an email to subscribe
Good for beginners
Negatives:
Limited Features
Does not support P2P or Netflix
US based servers only
If you use TunnelBear VPN for occasional browsing, and perhaps even not to great financial benefit, then it qualifies as the choice you need. TunnelBear VPN is a great option for you if you own a VPN software intended solely for occasional surfing and you are not a regular user.
If you send a tweet to the company on Twitter, you can get an extra GB added to your monthly quota so that you get 1.5 GB per month.
In the free version, you can choose from 22 VPN servers in different geographic locations. Another feature that makes TunnelBear one of the best free VPN services is the program's easy and unobtrusive interface where it is on the menu bar of Mac instead of opening in a window. separate.
TunnelBear provides 256-bit encryption to protect your data and the company does not store your browsing history. Tunnelbear also provides a Kill Switch feature called "Vigilant Mode" in the software that automatically blocks all unsecured connections in case you lose the connection to the VPN server once Reestablish connection and secure network Tunnelbear automatically re-available connections just like ProtonVPN does. TunnelBear is available as an add-on for most of the popular web browsers. Tunnelbear also includes a feature called "GhostBear" whose main job is to hide the fact that you are using a VPN from ISPs and governments. This can be useful if your ISP prohibits VPN use or you are in a country that prohibits VPN use.
Positives:
22 servers in different geographical locations
Doesn't stop working frequently
256 bit encryption
Kill Switch Feature
GhostBear Feature
Negatives:
Limited data volume per month
Does not support video sites such as Netflix
Does not support protocol
HotspotShield is another free VPN service that ranks as one of the best free VPN services for the level of confidentiality it offers. With the free account, users get 500MB of data per day and the company's servers are limited to the United States of America
Hotspot Shield Free VPN is easy to use and works right after installation, which is exactly what you are looking for in any free VPN service, and this applies to the use of both desktop and mobile applications. It provides an encrypted and fast connection that you can rely on greatly
Positives:
Military level encryption
Can be used on 5 devices per account
Negatives:
Concerns about sharing data with advertisers
It only has an extension for Chrome browser
does not support Linux
#6. Windscribe VPN
Windscribe is one of the cheapest VPN services around the world and that is why it is one of the most popular. Besides, it is one of the most generous VPN providers as it provides 10GB of free data to users, which can be increased further if you tweet about the company.
The company strictly follows the principle of no-user data storage and supports the popular IKEv2 encryption protocols based on AES-256. The Windscibe desktop software comes integrated with a data protection firewall.
Windscribe offers about 45 locations and 13 servers can be used with the free account and you can watch Netflix through some of these servers
Windscribe has an easy-to-use user interface and supports computers, phones, smart TVs, and some routers, as well as add-ons for popular web browsers.
Windscribe also comes with some impressive features like the Double Hop feature that allows you to route traffic through two servers on the Windscribe VPN network for more confidentiality and privacy.
Besides, there is a feature called "Split Personality" that can change the VPN server randomly to reduce the possibility of tracking your data.
Positives:
256 bit encryption
Virus Firewall
10GB data for free account
Double Hop feature
Web Browser Extensions
Negatives:
Incomplete Netflix support
Customer support by bots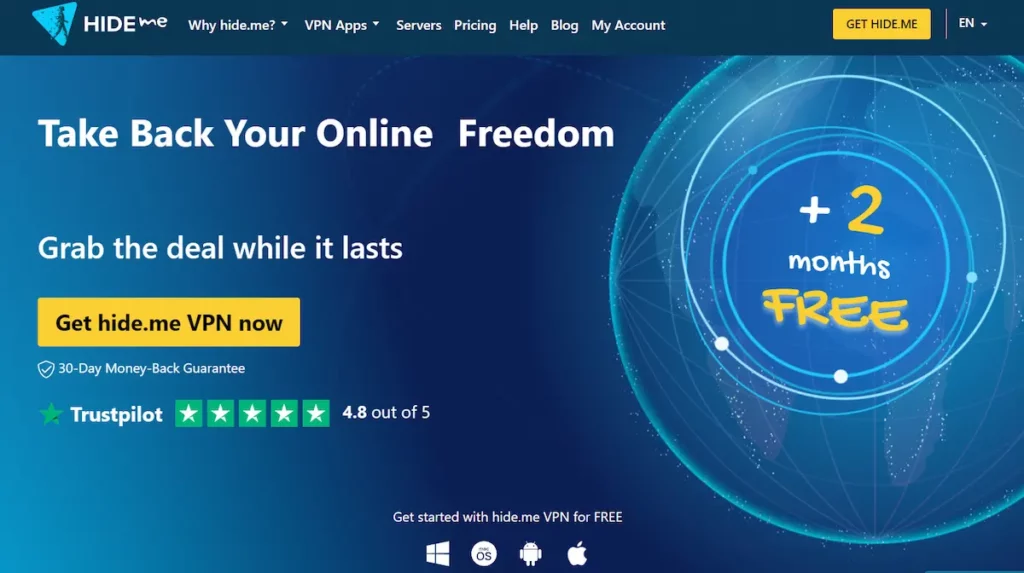 Hide.me works by hiding your IP address and encrypting your data using protocols like IKEv2 and OpenVPN.
Hide.me offers a free 2 GB package per month and you can invite your friends and get rewards every time someone uses the program through you
Since Hide.me operates from Malaysia, it has no legal obligation to store and share users' data with the government unlike VPNs that operate in some other countries.
The company has a strict policy against downtime and server speed. In addition to using a VPN, you can also add custom DNS server settings to avoid storing your IP address in these servers.
In the free version of Hide.me you can use four servers in four different locations which are Canada, Netherlands, Singapore and USA.
Hide.me supports a large number of operating systems for computers, phones, and even BlackBerry devices as well as smart home TVs.
Hide.me takes pride in its no-ads policy even in its free version.
It also has a Split Tunneling feature in the VPN service which allows you to enable VPN for some apps and services and use other apps without the VPN.
This can come in handy if you use services like Netflix that block VPNs.
Positives:
256 bit encryption
There is no legal obligation to register or share user data with the authorities
Split tunnel feature
Supports Wi-Fi routers and TV streaming devices
no ads
Negatives:
Limited data
Doesn't support Netflix
It does not have add-ons for web browsers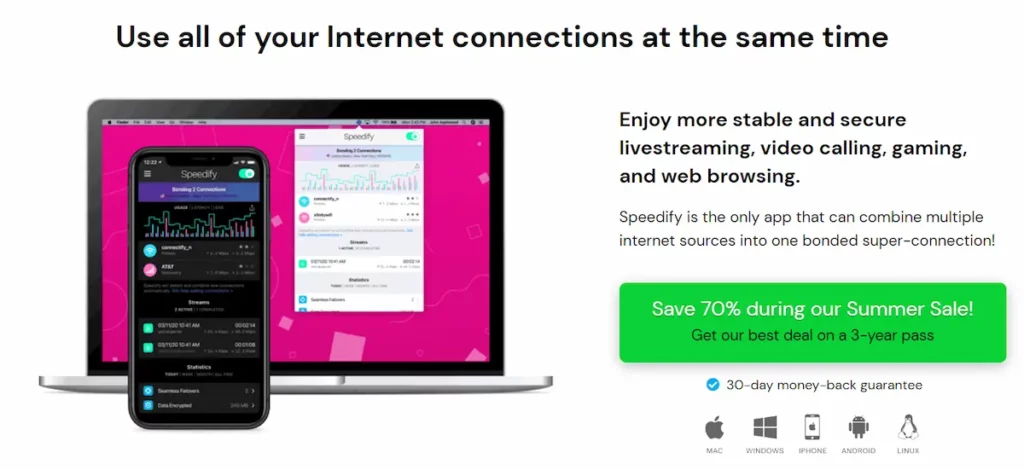 As the name Speedify suggests, the main goal of this software as a free VPN provider is to speed up the connection through 1000+ servers in 50+ countries while maintaining security. You can enjoy a full encryption system while the software's turbo-boosting technology makes sure that the speed remains at its maximum performance during the connection.
This software allows you to use multiple connections to improve speed, for example, it can take advantage of both Wi-Fi and 4G data connections when you are on a mobile device, ensuring the highest levels of performance. Speedify gives you about 5 GB of free data per month.
And that's it! That was our 8 best free VPN servers list for the moment. If you have any suggestions or recommendations to add to the list, let us know in the comments below.
---
Other Popular Articles ...