Trending
How To Check PC Is Compatible With Windows 11
How to tell if your PC can run Windows 11
Does your device support Windows 11 or not? In this post, we will answer this question and explain the best way to find out if your device supports running the new version of Windows 11 or not. Check pc is compatible with Windows 11 with just one click, effortlessly or without having to go to the Microsoft website to see the requirements for running Windows 11.

Microsoft announced on June 24th 2021 Windows 11 and this version of Windows came with many new features and improvements, most notably that it comes with a design similar to that of Apple's operating system, and includes a new feature known as Layouts that allows users to arrange their applications in different modes either on the right or left of the screen.

Besides this, Windows 11 updates will be 42% less as they will be more efficient and will run in background. User interface elements have been improved as well as touch gestures, and the widget comes on the left side of the operating system and can be displayed in full screen mode, including news, weather, maps, and other features.
Check PC Is Compatible With Windows 11
Windows 11 Minimum System Requirements:
If you want to install this operating system, then you need to meet the requirements.  The minimum system requirements for Windows 11 have been stated by Microsoft, and they are as follows:
System firmware: UEFI, Secure Boot capable.
Processor: 1 GHz or faster with 2 or more cores on a compatible x64-bit processor.
Memory: 4 GB RAM.
Storage: 64 GB or larger storage device.
TPM: Trusted Platform Module TPM  version 2.0.
Graphics card: DirectX 12 compatible graphics card.
Display: more than 9 inches with HD Resolution of 720p minimum.
Internet connection: Microsoft account and internet connectivity for Windows 11 Home.
Download Windows 11 full version from Microsoft
How To

Download Windows 11 Official ISO File 64 Bit
Does your device support Windows 11 or not?

The question that arises once Microsoft announced the new Windows system is: How check pc is compatible with Windows 11? Based on that, we will review two small tools to do this automatically in few clicks. We show you how to check if your pc is compatible with Windows 11 or not and how to check if your pc can run Windows 11 – TPM 2.0 explained. And based on this, you can fix your pc does not meet the minimum hardware.

Just download the program and install it on your computer, then after finishing the download and installation, run the program on your device, then click on the option "Check now". If you get a message that your computer does not support Windows 11 installation. You can click on the "Learn More option, to get more details from Microsoft's official website about the requirements to run the new Windows system and how to check pc is compatible with Windows 11 for most computer brands.
How to know if Windows 11 is compatible with my computer?
Have a look at this guide to have a full view on the issue and how to use the tools to check pc is compatible with Windows 11.
PC Health Check App
You can use the following software to know how to check if Windows 11 is compatible with your computer or not. PC health check app to see if your current pc meets the requirements to run Windows 11. The Pc health check app is currently not available on Microsoft website, but you still get the latest edition from the link below.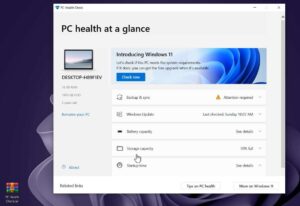 Pin
PC Health Check App Download
Windows 11 Compatibility Checker
You can try this second alternative tool for compatibility check for Windows 11. If offers a bunch of other option like pc rename and backups …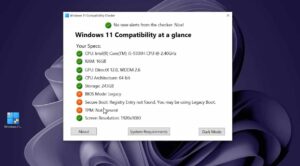 Pin
---
---
Hope this helped you to check pc is compatible with Windows 11. If you have any inquiries or want to share your experience with this new OS, then we will be glad to read them below in the comments section.
Other Popular Articles ...