FlexClip Review: Best Free Online Video Editor with AI Features
Want a Powerful Yet Free Video Editor? Learn Why FlexClip Stands Out!
As online video content continues to soar in popularity, content creators are constantly on the lookout for user-friendly and innovative video editing tools. The advent of artificial intelligence (AI) has revolutionized the way we approach video editing, streamlining the process and making it accessible to a broader audience. In this review, we explore FlexClip, a leading online video editor that boasts powerful AI features. Let's dive into why FlexClip is hailed as the best free online video editor with AI capabilities.
What is FlexClip?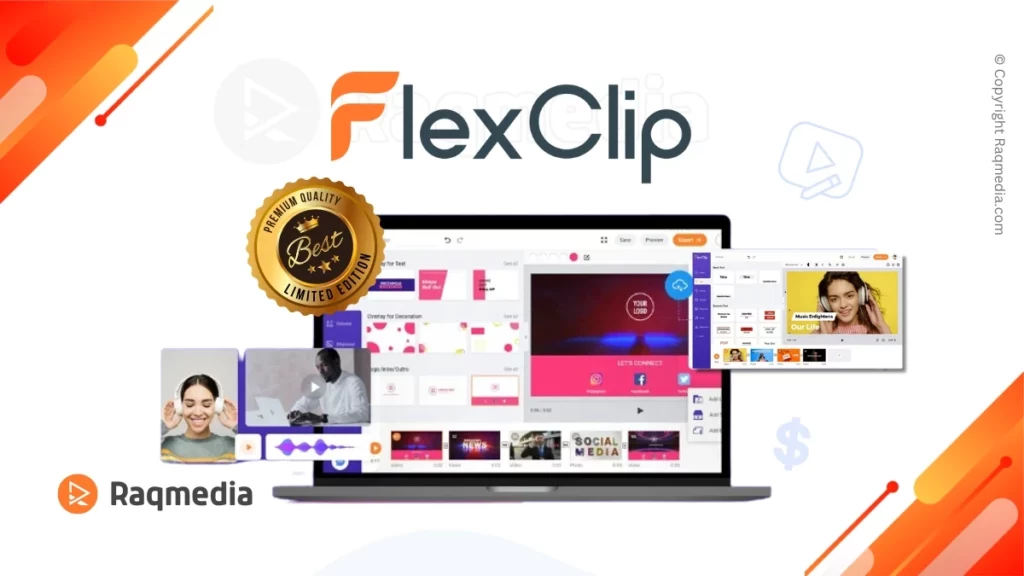 FlexClip is an all-in-one online video editing platform that allows users to create captivating videos without the need for complex software installations. It offers a plethora of tools, effects, and templates to suit various video editing needs. Its primary goal is to empower both individuals and businesses to produce professional-quality videos effortlessly.
FlexClip Review: Best Free Online Video Editor with AI Features
Are you eager to unleash your creativity and produce stunning videos without having to spend a dime? Look no further than our comprehensive FlexClip review, where we delve into the reasons why this exceptional free online video editor is a true game-changer.
FlexClip's cutting-edge AI features have revolutionized the video editing landscape, providing users with an unparalleled level of convenience and power. Whether you're a seasoned content creator or just starting on your video-making journey, this platform caters to all skill levels, making it the ideal choice for anyone looking to create captivating visuals.
With FlexClip, the possibilities are virtually limitless. Explore an array of intuitive tools and features that empower you to add your personal touch to every video. From seamlessly combining clips to enhancing your content with stylish text overlays and captivating transitions, you have the freedom to craft videos that truly reflect your vision.
Gone are the days of struggling with complex editing software or shelling out hefty sums for professional video services. FlexClip opens up a world of creative opportunities right at your fingertips. Join the growing community of satisfied users and experience the joy of creating exceptional videos effortlessly.
Flexclip AI Video Creation
One of FlexClip's standout features is its AI-powered video creation capabilities. With just a few clicks, users can generate videos using AI-driven templates. The platform automatically selects suitable footage, transitions, and music, creating polished videos in minutes. Creators can further customize these AI-generated videos to add their unique touch and branding.
User-Friendly Editing Tools
FlexClip's user-friendly interface is tailored for both beginners and experienced video editors. The simple and intuitive timeline allows for seamless video editing, while the drag-and-drop functionality enables effortless arrangement of video clips and elements. Regardless of skill level, users can quickly get the hang of the platform and start crafting stunning videos.
Video Templates and Themes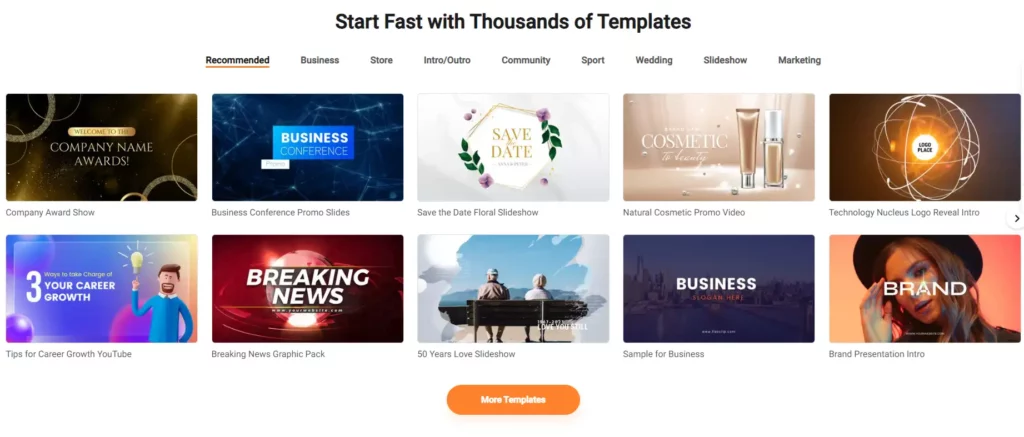 Time is a valuable resource for content creators. FlexClip recognizes this and offers a diverse collection of pre-designed video templates for various occasions, from business promotions to personal events. These templates serve as a creative starting point, allowing users to swiftly customize them to match their video's message and style.
Transition Effects and Animations
Smooth transitions play a vital role in enhancing video flow and maintaining viewer engagement. FlexClip boasts a library of transition effects and animations that creators can seamlessly incorporate into their videos. With a variety of options, users can easily experiment with different transitions to achieve the desired storytelling impact.
Text and Subtitle Options
Text overlays are a powerful way to convey information and messages effectively. FlexClip's text customization features enable users to add text to their videos with various font styles, colors, and animations. Additionally, the platform supports subtitles, making videos more accessible to a broader audience.
Audio Tools and Background Music
Audio is a critical component of engaging videos. FlexClip offers audio editing capabilities, allowing users to adjust audio levels, remove background noise, and enhance audio clarity. Moreover, the platform provides access to a vast library of royalty-free background music, enabling creators to find the perfect soundtrack for their videos.
Voiceover Recording
Voiceovers can significantly improve video narration and storytelling. FlexClip's voiceover recording functionality enables users to record their own voiceovers directly within the platform. This feature is particularly valuable for creating professional-quality narrations without relying on external recording software.
Video Speed and Motion Effects
Adjusting video speed can dramatically impact the video's mood and message. FlexClip enables users to control video speed, offering options for slow motion or fast motion effects. Additionally, the platform provides various motion effects that creators can apply to add dynamic elements to their videos.
Filters and Visual Effects
Filters are an excellent tool for setting the tone and style of videos. FlexClip offers a range of filters and visual effects to enhance video aesthetics. Creators can experiment with different filters to achieve their desired video look, whether it's a vintage feel or a modern and vibrant appearance.
Export and Sharing Options
Time is an invaluable resource for content creators, and at FlexClip, we wholeheartedly understand its significance. That's why we proudly present a vast and diverse collection of pre-designed video templates tailored to suit a myriad of occasions.
Whether it's for captivating business promotions or heartwarming personal events, our carefully crafted templates act as the perfect creative foundation for your projects. With FlexClip, you have the power to swiftly customize these templates to align flawlessly with your video's intended message and unique style. We believe that your creative journey should be seamless and efficient, allowing you to focus on producing remarkable content that leaves a lasting impact.
From choosing the right colors, fonts, and animations to adding a touch of personalization, our user-friendly interface makes the customization process an enjoyable and hassle-free experience. Unleash your creativity and bring your vision to life with FlexClip's exceptional video templates, designed to elevate your content creation game and make your videos truly stand out. Let your imagination soar, and with just a few clicks, create awe-inspiring videos that leave your audience eager for more. FlexClip – where time meets creativity in perfect harmony.
Once the video is ready for the world to see, FlexClip simplifies the exporting and sharing process. Users can choose the appropriate export settings for their desired video quality and size. FlexClip supports various export formats and resolutions, catering to different platforms and viewing preferences. Sharing videos on social media or embedding them on websites is effortless with FlexClip's integrated sharing options.
FlexClip Free vs. Paid Plans
FlexClip provides a free plan with a robust set of features to get users started. Upgrading to a paid plan unlocks additional benefits, such as higher resolution exports, longer video durations, and access to premium content. Creators can choose the plan that best aligns with their needs and budget.
Lifetime Deal on Appsumo
Are you ready to take your video editing to the next level with FlexClip? For a limited time, Appsumo is offering an exclusive lifetime deal for FlexClip. This means you get unlimited access to all the incredible features and AI-powered tools for a one-time purchase. Don't miss out on this amazing opportunity to harness the power of AI and create captivating videos that stand out from the crowd.
---
---
User Reviews and Feedback
User feedback provides valuable insights into the effectiveness of any platform. FlexClip has garnered positive reviews from its users, highlighting its ease of use, AI features, and the ability to create stunning videos quickly. Success stories and testimonials showcase how FlexClip has elevated the video creation experience for creators worldwide.
FlexClip's Impact on Video Creation
FlexClip has transformed the landscape of online video creation by empowering individuals and businesses alike. Its AI-powered features have simplified the video editing process, making it accessible to a broader audience. With FlexClip's comprehensive toolset and intuitive interface, creators can unleash their creativity and produce professional-quality videos without the need for extensive technical skills.
Recap
In conclusion, FlexClip stands out as an exceptional free online video editor, enriched with powerful AI features. From AI-generated videos to a vast library of templates, transitions, and visual effects, FlexClip offers a comprehensive suite of tools for content creators. Whether you're a beginner or an experienced editor, FlexClip's user-friendly interface and AI-driven features make it an ideal choice for crafting captivating and polished videos.
Unlock your video editing potential with FlexClip and witness the transformative impact of AI in the world of video creation. Don't miss out on the lifetime deal on Appsumo – get it now and start creating videos that leave a lasting impression on your audience.
Other Popular Articles ...