Introduction:
Creating a successful YouTube channel is not as easy as it may seem. You need to have a lot of dedication and patience in order to make your channel popular. In this article, you will learn some tips on how to create a successful YouTube channel.
YouTube is a powerful video sharing platform that allows users to upload, view, and share videos. Your channel can be used to promote your business, product, or service. It's also an excellent way to connect with potential customers.
How To Create A Successful YouTube Channel
Choose a topic:
The first step in creating a successful YouTube channel is to choose a topic that you are interested in. The most popular topics on YouTube are gaming, celebrity gossip and comedy videos. If you like these topics, creating a channel on these topics will be easy for you.
Narrow your focus and find a niche:
Once you have chosen your topic, the next step is to find a niche in which you can upload videos. For example, if you are a gamer who wants to showcase his or her gaming skills, create a channel on game playing tips and tricks.
Create quality content: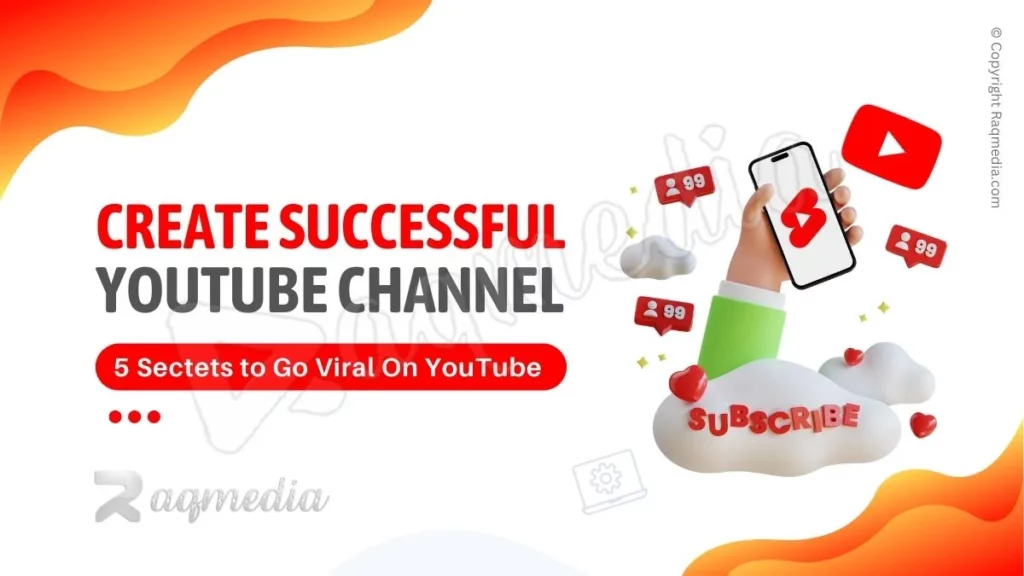 After you have selected a topic and niche, the next step is to create quality content. This means that you need to choose the right camera angle, lighting and set up your video in a way that looks professional.
One of the most important things you need to do is create interesting and engaging content. This means that you should always try to come up with new and innovative ideas for your videos. You should also make sure that your videos are high quality and professional looking.
Build a strong audience base
Another important thing to keep in mind is that you need to build a strong audience base. This means that you need to promote your channel regularly and connect with your viewers on social media platforms. It's also important to be interactive with your audience and respond to their comments and questions.
Quality over quantity:
You can create video content for your YouTube channel by simply recording the footage you have of yourself and then editing it together. Since you don't need to hire a professional videographer, this is an affordable way to start creating videos. Keep it interesting and engaging, that's the key to success.
Brand yourself:
You need to build your personal brand online. This can be done by sharing content that showcases who you are and what you do. For example, if you have a clothing line, then share your latest designs and other promotional material.
Create a unique name and persona. Your website should be your own personal brand. Make sure you have a unique name and persona. This will give people an identity to connect with, which is important for building trust and sales. Share your personality and experiences with others through videos.
Get involved with the community:
Create a website that showcases who you are and what you do. You need to build your personal brand online. This can be done by sharing content that showcases who you are and what you do.
Comment and reply to other users:
Collaborate with other YouTubers and create content together. Create a video that shows your personality and give it to your subscribers. Create an online shop, where you can sell merchandise personally designed by you.
Use proper video equipment:
With video becoming an increasingly popular way to communicate, it's important to use proper video equipment for your projects. Poor video quality will reflect poorly on you and your company. Here are some tips for getting the best results from your video shoots:
Use a tripod to avoid shaky footage.
Make sure your camera is properly focused and that the lighting is good.
If you're shooting indoors, use a white backdrop or light the scene evenly.
Keep your videos short and to the point. People don't want to watch long, boring videos.
Edit your videos using a good software program, such as Adobe Premiere or Final Cut Pro.
Upload your videos in high definition, so they look their best.
Invest in a good camera and microphone
Inexpensive tools like cameras and microphones can make a big impact on the quality of your videos. A good camera is essential for creating high-quality videos. When shopping for a camera, consider factors like resolution, frame rate, and zoom. You may also want to look for a model that includes features like image stabilization and face tracking.
The quality of your audio is also important. A good microphone will help ensure that your videos sound clear and professional. There are many different types of microphones to choose from, so be sure to select one that meets your needs.
Promote your channel:
Are you a YouTuber with a channel that you would like to promote? Perhaps you're just starting out and would like some advice on how to get your channel seen by more people. In either case, this article is for you. The first thing you can do to promote your YouTube channel is add it to your website.
There are many ways to market your YouTube channel and get more people to watch your videos. One way is to create high-quality videos that show off your unique perspective or talent. You can also make videos about topics that are of interest to your audience, or create entertaining challenges or games for your viewers to participate in.
Finally, you can promote your channel through social media, including Twitter, Facebook, and Google+, and by featuring it in blog posts and other online content.
Conclusion
Here are my carefully curated and valuable insights on the top 5 strategies that can empower aspiring YouTube content creators to not only transform their passion into a lucrative business endeavor but also pave the way for financial success in the digital realm. By diligently implementing these expert recommendations, you will position yourself for sustainable growth and profitability in the ever-evolving landscape of online content creation.
Other Popular Articles ...