Copy AI Review: A Simple, Powerful AI-Powered Copying Tool
The copying tool you didn't know you needed
Are you tired of spending hours brainstorming and writing compelling copy for your business? Look no further – Copy ai review is here to revolutionize the way you create content. In this comprehensive review, we will delve into the features and capabilities of this simple yet powerful AI-powered copying tool, designed to help businesses generate high-quality content effortlessly.
Say goodbye to writer's block and hello to a world where creative copy flows seamlessly from your fingertips. Join us as we explore how Copy.ai can transform your writing process and supercharge your marketing efforts!
What is Copy ai and what does it do?
Copy.ai stands as a groundbreaking AI-powered content generation platform that revolutionizes the way users create exceptional content on a grand scale. With its remarkable capabilities, this cutting-edge platform harnesses the power of natural language processing and machine learning algorithms, ensuring the production of high-quality, original content that captivates audiences and leaves a lasting impact.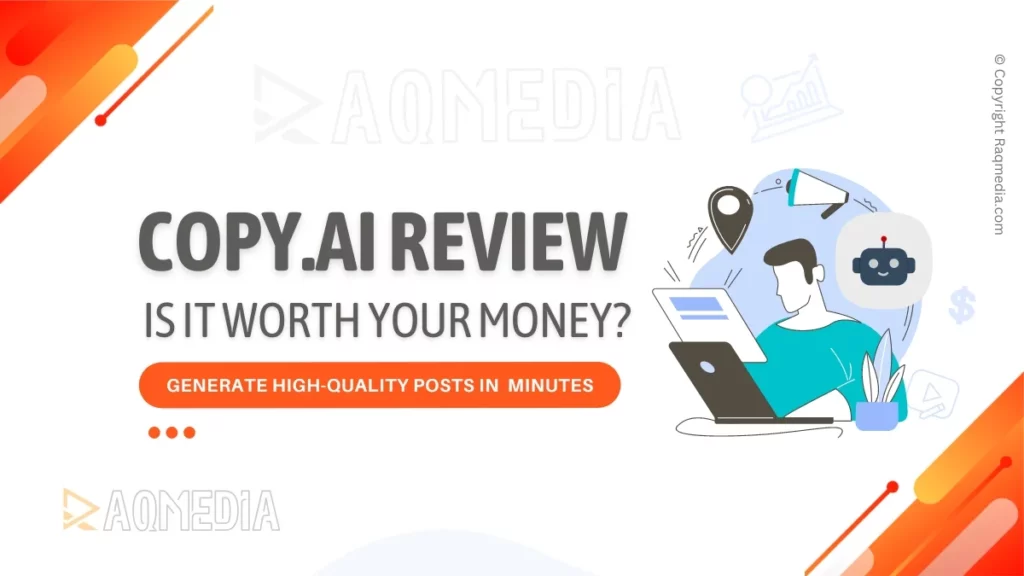 By seamlessly integrating advanced technologies, Copy.ai empowers users to unlock their creative potential and effortlessly generate content that is not only relevant but also inherently engaging. Whether you're a seasoned content creator or a burgeoning talent, this platform serves as your ultimate companion, facilitating the creation of impactful content with unparalleled ease and efficiency.
Say goodbye to the days of struggling to produce compelling content on your own. With Copy.ai, the possibilities are limitless, allowing you to elevate your content creation game and deliver exceptional results in a truly scalable manner. Prepare to embark on a journey where imagination meets innovation, and where the power of AI takes your content creation endeavors to new heights.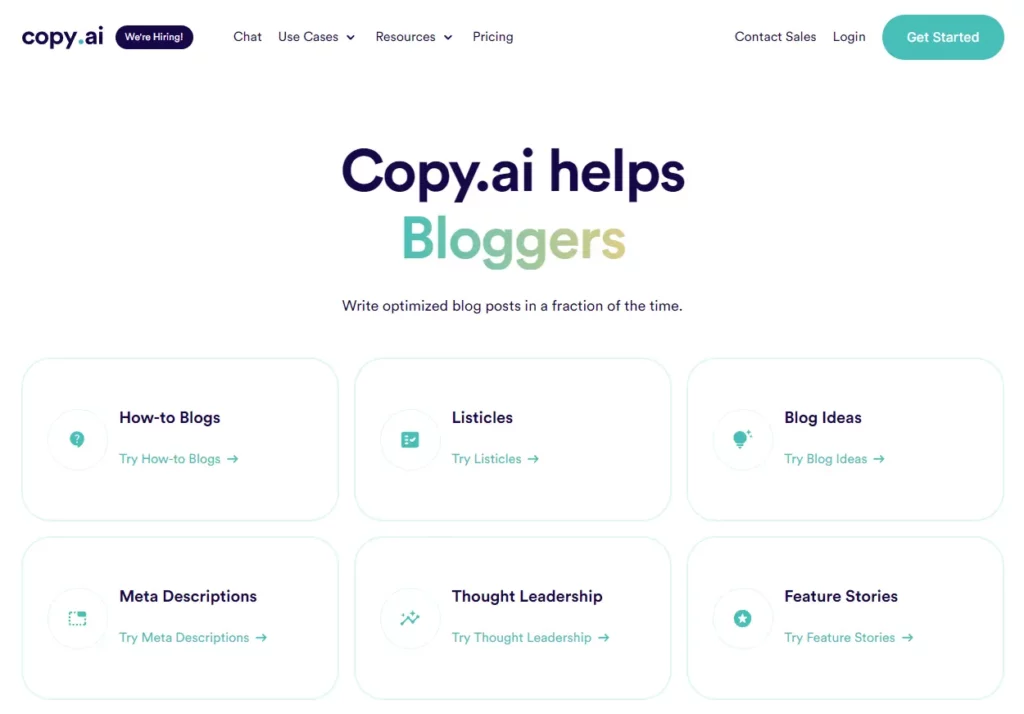 Copy.ai is a valuable tool for content marketers and web publishers who are looking to create fresh, unique content on a large scale. The platform can help save time and resources by automating the content creation process.
How does Copy ai work?
Copy.ai is an AI-powered copywriting tool that takes the guesswork out of writing headlines, meta descriptions, and product descriptions. Here's how it works:
1. You enter a keyword or phrase into Copy.ai's interface.
2. Copy.ai analyzes your keyword and generates a list of potential headlines, meta descriptions, and product descriptions.
3. You select the headline, meta description, or product description that you like best.
4. Copy.ai creates a draft of your selected text and gives you the option to edit it further or publish it as is.
Copy.ai makes it easy to write copy that's both SEO-friendly and human-friendly – all you need is a keyword or phrase to get started!
What Are The Features of Using Copy ai?
Copy.ai is a powerful online tool that helps businesses create and manage their content. It offers a wide range of features that make it easy to get started, including templates, branding tools, and content management. It can make you easy money when combined with other tools like Canva.
Copy.ai also offers a variety of features that help businesses grow their online presence. These include social media integration, email marketing, and Google Analytics integration.
Copy.ai is an easy-to-use online tool that helps businesses create and manage their content. It offers a wide range of features, making it easy to get started. With Copy.ai businesses can take control of their online presence and drive growth with features like social media integration, email marketing, and Google Analytics integration.
Copy ai Review: What Are The Benefits of Using Copy.ai?
If you are looking for a content writing tool that can help you create high-quality, engaging content, then you should consider using Copy.ai.
It is a new AI-powered tool that helps businesses create high-quality copy faster and more efficiently. Listed below are some of the advantages of using Copy.ai:
It can help you save time on creating copy for your website, landing pages, or other marketing materials.
With Copy.ai, you can create better quality copy than if you were to do it yourself or hire a freelance writer.
Copy.ai can help you create more targeted and personalized copy, which can improve your conversion rates and lead to more sales.
How Much Does Copy ai cost?
Copy.ai is a tool that allows users to create high-quality, plagiarism-free content. The tool uses artificial intelligence to help users rewrite and improve their articles. Copy.ai offers a free trial and a subscription-based pricing model. The subscription prices start at $36 per month for the basic plan and go up to $49 per month for the premium plan.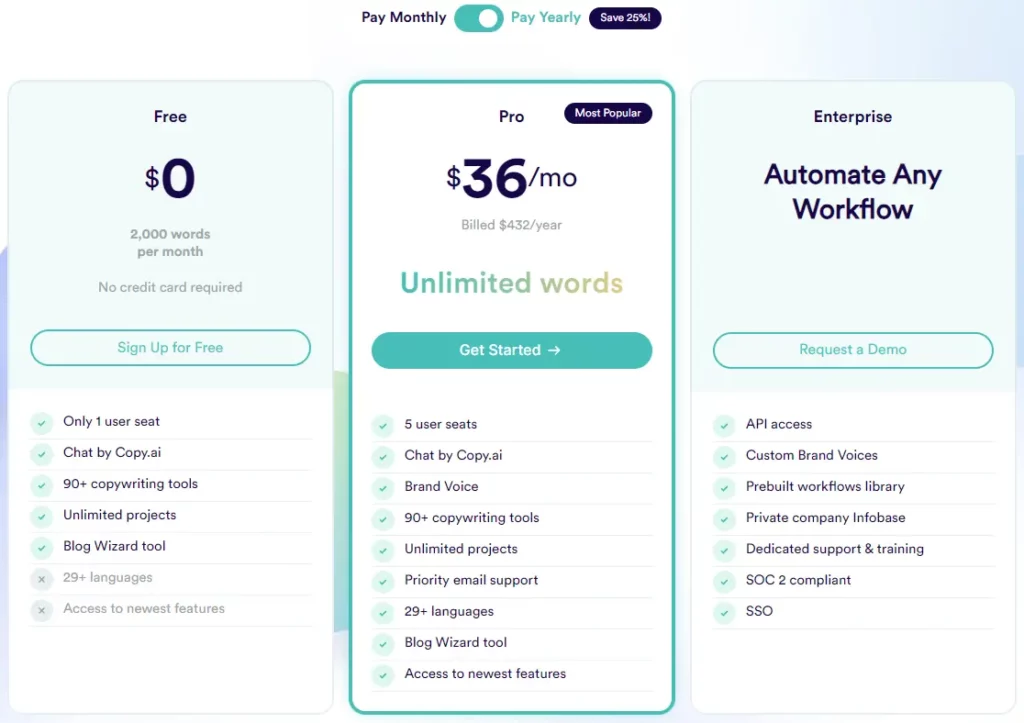 How to Create A Blog Post in Copy ai?
If you're looking to create a blog post using copy.ai, there are a few things you'll need to do. First, open up the copy.ai website and sign in with your account. Once you're signed in, you can click on the "Create Post" button in the frame in the top right-hand corner of the screen.
From there, you'll be able to select a template for your blog post.copy.ai offers a variety of templates for different types of content, so make sure to choose the one that best fits your needs. Once you've selected a template, you can start filling out your content.
Be sure to include all the necessary information in your blog post, such as a title, body text, and images. Once you're finished creating your content, click on the "Publish" button and your blog post will be live!
Is Copy.ai worth it?
Looking to effortlessly create top-notch content without compromising on quality or sacrificing precious time? Look no further than Copy.ai, a remarkable tool designed to streamline your content creation process.
Let's delve into what Copy.ai brings to the table:
With Copy.ai at your disposal, you'll be able to craft compelling, well-written articles within a matter of minutes. Simply input your desired keyword or topic, and watch as the tool generates an extensive list of ideas tailored to your needs.
Once you've selected an idea, Copy.ai becomes your trusty companion, aiding you in conducting research and swiftly crafting your article. As an added bonus, the tool incorporates a plagiarism checker, ensuring your content remains entirely original.
So, is Copy.ai a worthwhile investment? Here's our take:
If your quest involves finding a tool that not only expedites content creation but also upholds a high standard of quality, Copy.ai should undoubtedly be on your radar. Embrace the efficiency and convenience it offers, and unlock your true potential as a content creator.
Copy ai vs Jasper
Copy.ai and Jasper are two of the most popular artificial intelligence tools on the market. Copy.ai is known for its ability to generate high-quality content, while Jasper is known for its ease of use and flexibility. So, which one is the better AI tool?
There is no simple answer to this question. Both Copy.ai and Jasper have their own strengths and weaknesses. If you're looking for a tool that can generate high-quality content quickly, then Copy.ai is a good choice. However, if you need a more flexible AI tool that's easy to use, then Jasper is a better option.
Copy ai Alternatives
Are you looking for a Copy.ai alternative? If so, you're in luck. There are several great options available, including WordHero and Texta.ai.
WordHero is a great option if you're looking for an alternative to Copy.ai. It offers a wide range of features, including the ability to create custom word lists, thesauri, and glossaries. It also has a powerful search engine that can help you find the perfect word or phrase for your needs.
Texta.ai is another excellent alternative to Copy.ai. It offers many of the same features as WordHero, including the ability to create custom word lists and glossaries. However, it also has some unique features, such as the ability to automatically generate summaries of text documents.
Recap
Copy.ai is an exceptionally robust and user-friendly AI-powered copying tool that caters to the needs of individuals from all walks of life. With its remarkable ease of use, this cutting-edge tool empowers users to effortlessly duplicate text while offering an extensive array of features that add immense value to their experience.
Whether you're a seasoned professional or a novice, Copy ai stands ready to be your go-to resource, streamlining your text-copying tasks with unparalleled efficiency and precision.
Other Popular Articles ...