What Is Shopify and How Does Shopify Work?
The Ecommerce Revolution: Unveiling the Mysteries of Shopify
When it comes to setting up an online store, there are a lot of different platforms to choose from. One of the most popular options is Shopify. In this article, we'll take a closer look at what Shopify is and how Shopify works. We'll cover everything from setting up your Shopify store to selling your products and even some of the advanced features that Shopify offers.
What is Shopify Store?
Overview of the platform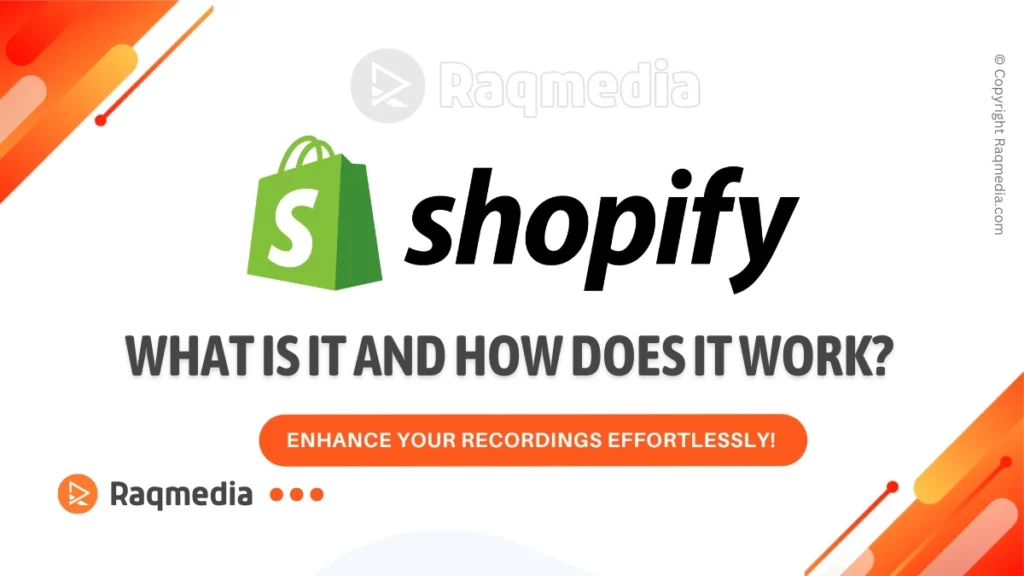 Essentially, Shopify is an ecommerce platform that allows you to set up an online store. It's designed to be easy to use, even for people who don't have any experience with building websites or running an ecommerce business. Shopify provides everything you need to create an online store, including hosting, design templates, payment processing, and more.
Benefits of using Shopify for ecommerce
One of the biggest benefits of using Shopify is that it's an all-in-one solution. You don't need to worry about finding separate hosting or payment processing solutions – everything is built right into the platform. Additionally, Shopify is very user-friendly, with a simple and intuitive interface that makes it easy to customize your store and add products.
Another benefit is that Shopify offers a variety of different plans to choose from, so you can find one that fits your needs and budget. Whether you're just starting out with a small business or you're looking to scale up your ecommerce operation, there's a Shopify plan for you.
Shopify's pricing and plans
As mentioned, Shopify offers a variety of different plans to choose from. The most basic plan is Shopify Lite, which allows you to sell products on an existing website or social media platform. From there, the plans increase in price and features, with the most advanced option being Shopify Plus, which is designed for larger, high-growth businesses. Shopify also offers a free trial, so you can try out the platform before committing to a plan.
How to Use Shopify eCommerce
Creating your Shopify store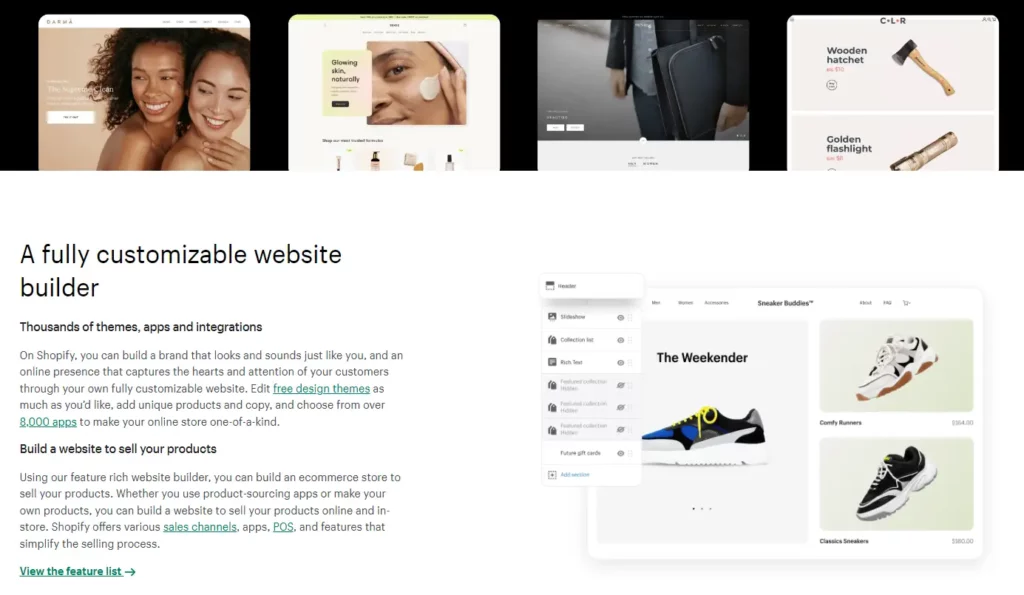 To get started with Shopify, the first thing you'll need to do is create your store. This involves signing up for a Shopify account and choosing a website name and layout. From there, you can customize your store with your branding and create any necessary pages, such as an "About Us" page or a FAQ.
Choosing a Shopify Theme
Once your store is set up, you'll need to choose a theme. Shopify offers a variety of different themes to choose from, both free and paid. These themes provide the basic design of your site, and you can customize them further with your own colors, fonts, and images.
Setting up Shopify payments and point-of-sale (POS)
One of the most important aspects of running an ecommerce business is being able to accept payments. With Shopify, you can use Shopify Payments to process credit card payments directly through your store. Additionally, Shopify offers a point-of-sale (POS) system that allows you to sell products in person, such as at a retail store or pop-up shop.
Starting to Sell on Shopify
Uploading products and managing inventory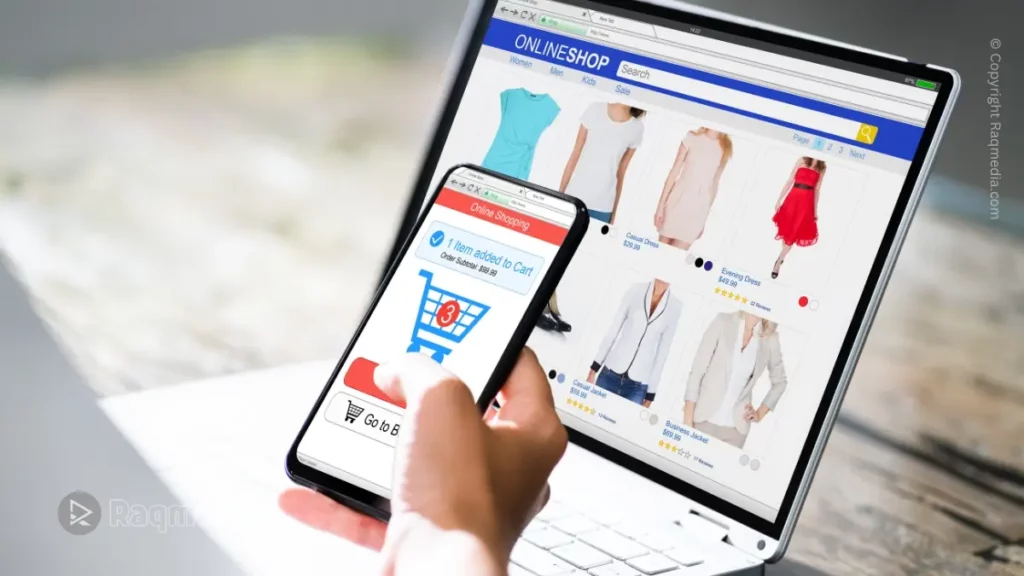 Once your store is set up and your payment processing is in place, it's time to start selling! This involves uploading your products and managing your inventory. With Shopify, you can easily add products to your store, including images and descriptions. You can also set up inventory tracking to ensure that you don't oversell any products.
Building customer relationships on Shopify
Another important aspect of selling on Shopify is building relationships with your customers. Shopify provides a variety of tools to help you do this, including email marketing, social media integration, and customer reviews. These tools allow you to stay in touch with your customers and gather feedback to improve your products and services.
Marketing your Shopify store
Finally, to drive sales and grow your business, you'll need to market your Shopify store. Shopify provides a variety of marketing tools and integrations to help you do this, including social media advertising, email marketing, and search engine optimization (SEO).
Shopify Advanced Features
Upgrading to Shopify Plus
If you're running a larger, high-growth ecommerce business with ambitious goals, you'll definitely want to consider upgrading to the robust and powerful platform of Shopify Plus. This exceptional plan offers a wealth of advanced features and capabilities that go beyond the standard, empowering you with tailor-made checkout experiences that reflect your brand's uniqueness.
You can access to wholesale pricing options to enhance your B2B operations, and the peace of mind that comes with dedicated support from the Shopify team, ensuring you're always taken care of. With Shopify Plus, you'll have everything you need to elevate your business to new heights of success and beyond.
Exploring the Shopify App Store
Another way to add advanced functionality to your Shopify store is by exploring the Shopify App Store. This store contains thousands of different apps and integrations that you can use to enhance your store, from email marketing apps to inventory management tools.
Using Shopify for dropshipping and fulfillment
Finally, if you're keen on delving into the world of dropshipping or exploring the possibilities offered by enlisting the aid of a dependable third-party fulfillment service, Shopify graciously provides an arsenal of tools to assist you in seamlessly managing these intricate processes. Brace yourself for a whirlwind of innovative features specially crafted to elevate your dropshipping aspirations to soaring heights.
Picture this: Shopify graciously takes the reins, orchestrating the automatic placement of orders with your trusted fulfillment provider, ensuring a harmonious symphony of transactions that dance gracefully through the digital realm. But wait, there's more!
Shopify showers you with the gift of unwavering visibility, allowing you to meticulously track and monitor the progress of your precious shipments, transforming you into an all-knowing master of logistics. By harnessing the unparalleled power of Shopify, you are granted the golden key to navigate the intricate labyrinth of dropshipping and third-party fulfillment with a symphony of complexity, precision, and resplendent elegance.
Pros and Cons of Shopify
Benefits of using Shopify
There are many benefits to using Shopify for your ecommerce business. As mentioned, it provides an all-in-one solution that makes it easy to create and manage your store. Additionally, Shopify is very user-friendly and customizable. It also provides a variety of marketing and sales tools to help you grow your business.
Drawbacks of using Shopify
Of course, there are also some drawbacks to using Shopify. One is that it is a subscription-based platform, so you'll need to pay a monthly fee to use it. Additionally, some users have complained about the fees associated with using Shopify Payments. Finally, some users have noted that the platform can be somewhat limiting when it comes to customization and functionality.
Common questions about using Shopify
Some common questions that people have about using Shopify include how to get started with the platform and what kind of support is available. Fortunately, Shopify provides a wealth of resources to help you get started, including video tutorials, documentation, and a support community. Additionally, Shopify provides 24/7 support via phone, email, and chat.
Shopify Payments Options: Secure and Convenient Payment Solutions
When it comes to running a successful e-commerce store, offering a diverse range of payment options is essential to cater to the varied preferences of your customers. At Shopify, we understand the significance of seamless payment processing, and that's why we bring you an array of secure and convenient payment solutions designed to enhance your customers' shopping experience.
1. Credit and Debit Cards:
Enable your customers to make purchases using their preferred credit or debit cards. With our robust payment infrastructure, you can seamlessly accept payments from major card networks, including Visa, Mastercard, American Express, Discover, and more. Rest assured that every transaction is encrypted and protected with the latest security protocols, ensuring the safety of your customers' sensitive information.
2. Digital Wallets:
In this fast-paced digital era, digital wallets have become increasingly popular among online shoppers. By integrating popular digital wallet options such as Apple Pay and Google Pay, you empower your customers to make quick and secure payments with just a few taps on their smartphones or other devices. The streamlined checkout process reduces cart abandonment and boosts customer satisfaction.
3. Shopify Pay:
Our very own Shopify Pay simplifies the payment process for returning customers. With the "remember me" feature, customers can securely store their payment information, making subsequent purchases a breeze. This frictionless payment experience encourages repeat business and strengthens customer loyalty, ultimately benefiting your e-commerce store.
4. Buy Now, Pay Later:
Offering flexible payment options has proven to increase conversion rates and average order values. By integrating with popular "buy now, pay later" providers like Klarna or Afterpay, you cater to customers who prefer to spread their payments over time. This financial flexibility attracts more shoppers and opens up new avenues for revenue growth.
5. Cryptocurrency:
Stay ahead of the curve and embrace the future of online transactions by accepting cryptocurrencies as payment. By enabling payments in cryptocurrencies like Bitcoin, Ethereum, or Litecoin, you tap into a tech-savvy and growing customer base while demonstrating your e-commerce store's commitment to innovation and inclusivity.
6. Manual Payments:
For customers who prefer traditional payment methods, our platform also supports manual payment options such as bank transfers or checks. This option ensures that you don't miss out on any potential sales, regardless of your customers' payment preferences.
---
In short, Shopify is dedicated to empowering your e-commerce venture with a wide array of payment options to cater to the diverse needs of your customers. From credit and debit cards to digital wallets, "buy now, pay later" services, and even cryptocurrencies, our payment solutions create a seamless and secure shopping experience that drives growth and success for your online store. Join the thousands of successful businesses that have harnessed the power of Shopify Payments and take your e-commerce journey to new heights.
---
Q: What is Shopify?
A: Shopify is an ecommerce platform that allows individuals and businesses to create online stores. It offers all the tools necessary to start selling products or services online, including a website builder, inventory management, and payment processing.
Q: How does Shopify work?
A: Shopify allows store owners to create and manage their online stores. They can choose from various themes to customize their store's design and interface. In addition, Shopify provides a dashboard that makes it easy to manage inventory, process orders, and track sales. Shopify also integrates with various payment gateways to facilitate secure payments from customers.
Q: What is Shopify Lite?
A: Shopify Lite is a version of Shopify that allows users to sell products on social media, blogs, or existing websites. It includes features such as a "buy" button and a Facebook store.
Q: How do I start selling on Shopify?
A: To start selling on Shopify, you first need to create an account and choose a pricing plan. You can then select a theme and customize your store's design. You can then add products to your store, set up payment processing and shipping, and start promoting your online store.
Q: What is Shopify Plus?
A: Shopify Plus is a more advanced version of Shopify designed for larger businesses that require more features and customization. It includes features such as bulk automation, advanced security, and dedicated account management.
Q: Does Shopify offer a free trial?
A: Yes, Shopify offers a 14-day free trial that allows users to test out the platform's features before committing to a subscription.
Q: Is Shopify a good ecommerce platform?
A: Yes, Shopify is an excellent ecommerce platform that provides users with all the tools and features needed to create and manage an online store. Its user-friendly interface, customization options, and customer support make it an ideal choice for small business owners and entrepreneurs.
Q: What are some cons of using Shopify?
A: Some cons of using Shopify include its transaction fees for using third-party payment gateways, limited design customization options for certain themes, and the fact that it is a subscription-based service.
Q: Does Shopify offer a point-of-sale (POS) service?
A: Yes, Shopify offers a POS service to sell online in physical retail locations. This service allows users to manage orders, inventory, and customer data in one place.
Q: What is Shopify App Store?
A: Shopify App Store is a collection of third-party apps that integrate with Shopify to provide users with additional features and functionality, such as email marketing, social media management, and shipping label printing.
Q: How does Shopify pricing work?
A: Shopify pricing is based on several factors, including the user's chosen pricing plan, the number of products they offer, and the payment gateway they use. The pricing plans range from the basic Shopify plan to the more advanced Shopify Plus plan.
Other Popular Articles ...